Bush Regeneration, Ecological Restoration, Ecosystem Rehabilitation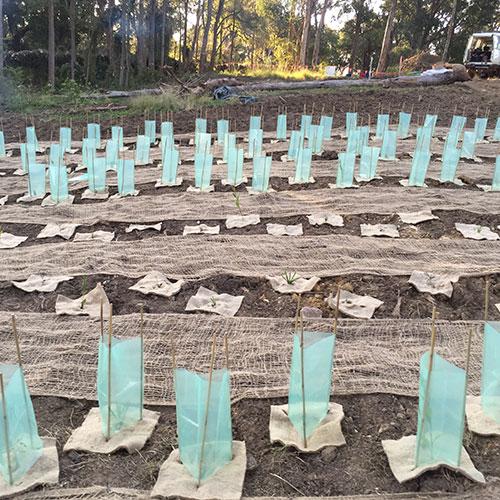 Bush Regeneration and Ecosystem Rehabilitation is often required as an offset for the remaining bushland left on development sites. Workable solutions are what we provide as part of our Vegetation Management Plans and our experience implementing these plans on the ground to control weeds, stabilise soil and replant natives to restore ecosystems is important for the ecology of such sites. We have undertaken a large range of projects over the years in Bush Regeneration and Ecosystem Rehabilitation and this also involves provision of fauna habitat both through the use of native site materials and artificial nest boxes. Monitoring of progress of such works is critical to their success and monitoring of fauna recovery and use of nest boxes is also undertaken. Our techniques are innovative and get great results.
Many of our projects have been reviewed in detail by local councils as part of their compliance and they are often extremely happy where we can get plants growing (often on difficult sites) and the quick plant response to restore ecosystems and join up areas of bushland.  We often install custom designed watering systems and use special soil conditioners and fertilizers to enable rapid plant growth.  This is important to shade out weeds and get the ecosystem to a point where the natives are largely shading out the weeds.  The more quickly the plants grow, the more quickly the maintenance costs are reduced and with the natives shading out the weeds less regular maintenance for weed control is required.
We undertake monitoring for our Vegetation Management Plans to show the progression of the vegetation through time.  This is often a DA consent condition from most councils and the data is quite valuable to vegetation management.
Schedule a consultation with our team of experienced environmental experts today